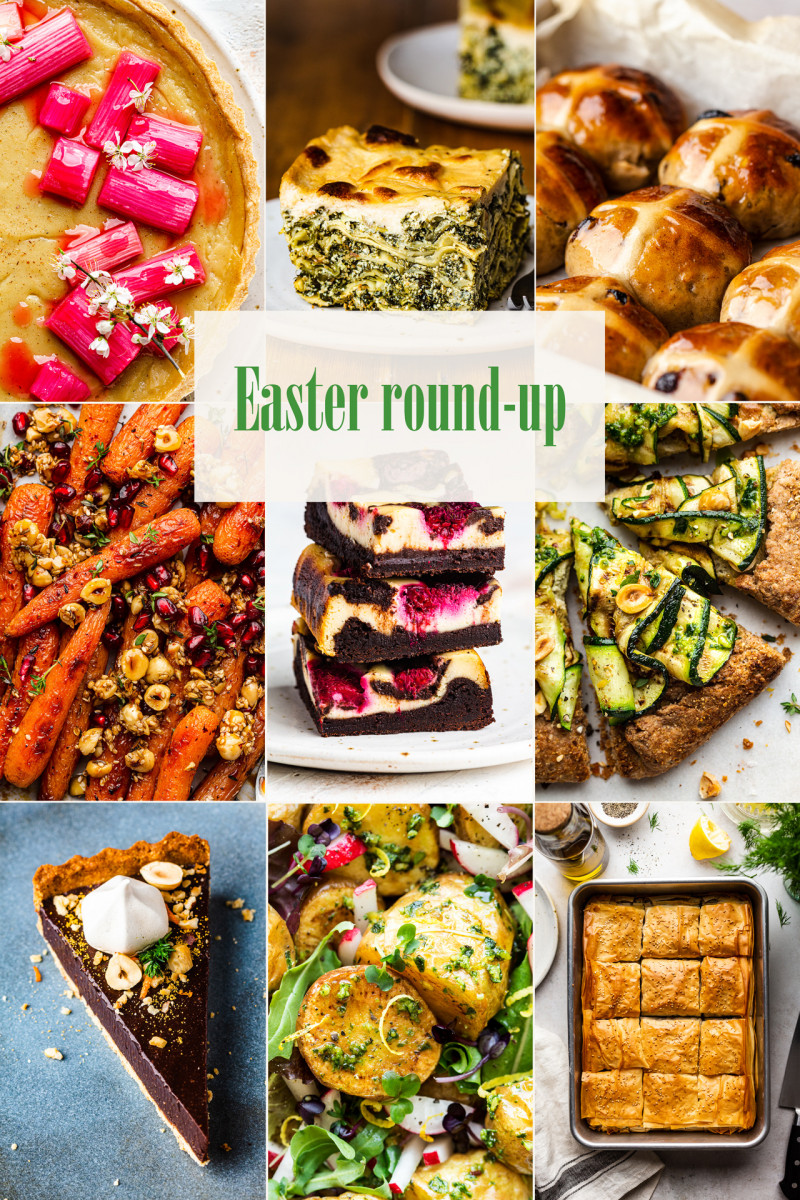 Spring is in the air and Easter is just round the corner so I figured that a little round up of Easter worthy recipes may come in handy if you celebrate it. And if you don't then all these recipes are quite light and seasonal anyway so perhaps they will inspire a Sunday dinner or some other occasion meal that is part of your family tradition.
Whenever it comes to big family gatherings involving food (and pretty much all of them do, don't they?), it's not always easy being (often the only) vegan at the table. Whether you are celebrating on your own turf, and therefore make the rules, or turning up to someone else's house, it is essential to be prepared.
Hopefully everyone around the table will be welcoming and respectful of your choice not to eat animal products, but even if you are not that lucky, having banging vegan food will make you feel more included and will maybe convince those who remain unaccepting or even hostile towards veganism that vegan food is just food. It provides just as much sustenance and enjoyment as any food and can certainly be just as delicious as anything non vegan. Here are some dishes that will make your Easter experience delicious.
Centerpieces
A table centerpiece is always the biggest challenge when it comes to a festive table that is free from animal products. There is a range of possibilities here, but my personal go to is puff pastry wrapped vegan mushroom pie featuring a delectable filling of herby mushrooms and melty vegan cheese sauce. It doesn't require many or any niche ingredients and is quite straightforward to make too.
Alternatively a savoury free hand pie with a seasonal topping is always a good idea. As it doesn't require a baking tin, you can make it as big or small as you like. This vegan zucchini galette with dukkah and a creamy cheesy topping encased in crispy spelt pastry is always a winner with my guests.
You could also make a more traditional looking centerpiece except that instead of a meat filling, it will feature a delicious plant-based filling instead. My personal favourites, which I make for all big occasions throughout the year, are my Beet Wellington or a less-labour intensive Giant Vegan Sausage Roll, which features umami-rich centre wrapped in shop-bought puff pastry and baked to perfection.
You could also make this gluten-free vegan roast based on this one I published ahead of Christmas but you may want to update the filling to feature vegetables that are currently in season. I would stuff it with grilled asparagus, for example. Another idea is this roasted tomato galette that features creamy filling and juicy, oven-roasted tomatoes on a spelt base. It can easily be made without gluten too.
You could take a leaf out of Greeks' book and make a herby and creamy spinach pie – spanakopita – topped with crispy phyllo pastry or make an eggless quiche – I made mine with asparagus and petite pois, but any topping of seasonal veg will be just as delicious.
Mains
If you are after something a big casserole style dish that can be shared amongst your guests or enjoyed for days afterwards (if you are not celebrating with many people), how about a few Greek or Italian inspired dishes? I have a range of lasagne recipes that will certainly be suitable for the occasion including a simpler to make, yet just as delicious, Greek-style lasagne known as pastitsio.
First up a vegan take on classic lasagne bolognese, it features a deliciously meaty (without any meat of course) bolognese sauce between layers of perfectly baked pasta and crowned with a creamy bechamel sauce. The other one, vegan lasagne primavera, is the same concept but inspired by the seasonal Spring produce: leeks, zucchini and green peas.
Vegan spinach lasagne is another lighter take on the classic. It features a creamy spinach sauce that is fragrant with lemon and herbs. Alternatively, how about a naturally gluten-free vegan moussaka. This recipe was inspired by our time on a Greek island where we moved for a few years. It features a layer of potatoes, eggplants, beautifully spiced vegan mince layer and a creamy cashew bechamel to boot and it never fails to impress.
If you like the sound of a pasta bake but would like to try something a little different, give Pastitsio a go – it's a Greek answer to lasagne and it's less fussy to make too. or how about vegan cannelloni stuffed with spinach and baked in an aromatic tomato sauce.
If you are celebrating in a very small company, are brave and want to impress, you could make some fresh vegan pasta instead. On the left dainty vegan wild garlic ravioli served with a bit of wild garlic pesto and on the right gluten-free ravioli with homemade gluten-free pasta (that's right!) and a herby green pea filling.
Sides
You can never go wrong with preparing a bunch of delicious sides and combining them with each other for a true flavour and texture explosion. There are so many options…
My two latest favourites are these roasted carrots with a sprinkling of crunchy (and totally addictive) dukkah brittle, fragrant with fennel, cumin and coriander. And the other is a plate of green beans topped with fried breadcrumbs to add texture and excitement. It's a dish inspired by two classics – French bean almondine and Italian pangrattato and it's anything but boring.
This simple vegan pate with delicate balsamic jelly is another idea, which would go along beautifully with some quality bread or crackers. Or how about some smashed potatoes with a simple sage pesto.
If you love carrots as well as heat (spicy heat), this simple dish of roasted baby carrots in gochujang glaze maybe just what you are after. Or how about roasted green beans topped with almond bacon bits? Just be sure to keep an eye on whoever is making the topping as it has a strange propensity to disappear into people's mouths as soon as it cool enough not to burn their tongues and then there is nothing left for the dish itself 😉 .
A skillet of simple potato gratin is another dinner party must have, easy to make, creamy and full of flavour. Or a plate of roasted beets on a creamy cauliflower mash drizzled with balsamic glaze may be more enticing.
If you are feeding a crowd this larger potato gratin will probably be more suitable and how about this little crowd-pleaser? Harissa roasted carrots with cranberries – it always gets so many compliments. As I created this dish for Christmas I used fresh cranberries, which I roasted in the oven – simply use dried cranberries rehydrated in orange juice and add them in at the end for little pops of tart sweetness.
My last two suggestions are roasted beets on a garlicky skordalia – a beautiful side dish inspired by Greek cuisine and vegan stuffed mushrooms, which are always in season and always get rave reviews.
Salads
You do want something green and crunchy in amongst all that rich food that you'll be indulging in, but it does not need to be boring. Here are some of my favourites…
This colourful beetroot salad with maple walnuts bridges the gap between winter and spring produce, it's exciting, fresh and a food processor makes a quick job of it too. The other dish is a simple potato salad with seasonal wild garlic (or other) pesto that's satiating yet fresh.
Chargrilled gem lettuce with a creamy Caesar-style dressing is another easy option or if your table is missing some green tones, this green vegan salad with quinoa and basil dressing will certainly deliver those in spades.
Or how about roasted aubergine and farro salad with simple balsamic dressing and optional smattering of soft vegan cheese or a crispy shaved fennel salad with sweet roasted grapes.
Herby chickpea and grilled vegetable salad with crispy rustic croutons delivers plenty of flavour and texture or this cannellini bean and grilled zucchini salad with lemon dressing is another great option – as both of them contain legumes they are a great option if you are worried that your guests will go hungry – this is a perpetual worry of mine 😉 .
Vegan Brussels sprouts slaw with caesar style dressing, smoky almonds and croutons would also be a nice side and if Brussels sprouts are no longer in season where you are or you are simply done with them until Christmas, use finely shredded white cabbage or sweetheart cabbage instead. Next up is easy vegan BBQ salad featuring chargrilled asparagus and zucchini and despite its name, it does not require a BBQ – a hot griddle pan does the trick.
If, like me, you cannot resist new potatoes as soon as they start appearing in stores, I have two potato themed salads for you. One is inspired by the ingredients of Spring, which are brought together with a beautifully creamy sunflower seed dressing and the other is like classic BLT sandwich, but in a salad form – you are welcome to try them both.
Savoury bites
If your table is missing some savoury finger food, I have a few ideas for you.
If you are a keen forager, you may want to give these savoury scones a go. They are made with wild garlic, which grows prolifically at this time of the year, but if you don't live near a foraging spot simply swap it out for chives. These are delicious with a sliver of vegan butter. These mini sausage rolls featuring umami-rich filling encased in golden puff pastry will make anyone, vegan or non-vegan, swoon, I promise.
Another option is make your wild garlic bounty into these beautiful quiche tarts and serve them on their own or alongside a simple salad. Finally these vegan spanakopita triangles filled with a creamy and herby spinach filling would also be quite popular I am sure.
Desserts
If you want to make a big dessert to be able to share amongst your guests, there is a range of options – a beautiful festive tart, cheesecake or pie to name just a few. My favourites for this time of the year are this creamy vegan custard tart, which is pretty straightforward to make actually or, if you feel like something a little extra, this vegan lemon meringue pie is guaranteed to be popular too.
A creamy no-bake vegan cheesecake on a biscuit base and adorned with fruit would be another idea or this nutty vegan chocolate tart if you are hosting a bunch of chocolate lovers.
If a baked cheesecake is what you are after, how about this creamy, lemon-flavoured beauty. It is made out of common ingredients and does not require much pastry skills – the crust comes together in a food processor and the filling needs a good blend. This two layered vegan chocolate tart with peanut butter caramel is also a dessert that is bound to make a good impression on your guests.
Cakes
If you are more of a cake person, a tray of luxurious brownies or good sponge may be more up your street – here some of my personal favourites…
These vegan cheesecake brownies are a dream in a dessert form – a fudgy deeply chocolate-y base contrasting with a tangy cheesecake layer studded with frozen raspberries, which create little pockets of tangy and juicy relief. Or if lemon, rather than chocolate, is on your mind right now this simple vegan lemon poppy seed cake is a classic that will bring a smile on everyone's face.
No frills vegan brownies, with crispy exterior and fudgy interior, are another option. Or if you feel like a white chocolate brownie – these vegan blondies studded with raspberries may sound even better.
If you are looking for a recipe for a simple yet delicious loaf cake – this moist vegan raspberry cake studded with raspberries and vegan white chocolate chunks was a massive winner with everyone who tried it. Or classic flavour of vegan lemon drizzle may be more appropriate. Easy to make, moist, fluffy and delicious and if you are feeling brave infuse your lemon syrup with a spring of rosemary for a delicious twist.
Walnut and coffee cake is another classic – in fact I am making a three tiered version of it this weekend – or a vegan carrot cake , fragrant with spices and crowned with an indulgent cashew frosting.
Sweet buns, breads and scones
Sweet buns, breads and scones (a category of its own, I guess) are all part of Easter baking tradition. Here is a range of sweet dough delicacies that may inspire you to create. I think that some of these are not traditional Easter food per say, but I feel like they would go well with the general Easter vibe…
Swedish cinnamon buns are my latest obsession and while I think they are an all year staple in Sweden, I would welcome them on my Easter table with open arms…if only someone made them for me….Hot cross buns are an Easter staple here in the UK and they really are delightful, studded with dried fruit and heady with spice and glazed with thinned jam for that signature shine.
In my native Poland, babka is a traditional Easter sweet and although it's shaped more like a panettone it uses enriched dough like this vegan chocolate babka. It has a generous streak of dark chocolate running through the dough and it's hands down one of my favourite sweet breads ever. It's absolutely addictive. Scones are a British institution, which I have fully embraced and this version is studded with sweet ginger chunks and served with roasted rhubarb, which makes these beauties very Easter appropriate in my view.
Another two options are a fruit studded challah and sweet cheese rolls, both of which remind me of home. The former is a twist on something my gran served every Easter and the latter is a delightful sweet pastry that I and people from many other countries grew up on. It's not part of Polish Easter tradition but with its lemon flavoured cheesecake filling I feel like it could be.
Here is a plainer version of my childhood sweet cheese rolls and some delightful chocolate and orange twists.
If you would like to make scones but this is your first attempt or you are a scone purist who does not believe in adding things to the dough like I did here and here, try this basic vegan scone recipe first. Or perhaps these beautifully pink rhubarb and ginger buns are more your thing – you could use the same dough and swap rhubarb out for other fruit, like blueberries for example and add blueberry juice to the icing for another striking tray of buns.
Individual desserts
If pastry based desserts scare you (I understand, pastry can be tricky if you've never made it before) or you are celebrating in a small group, an individual dessert may be more appropriate.
These creamy and indulgent no bake vegan cheesecakes have a simple biscuit base and a hint of white chocolate, they go really well with a tangy fruit topping like roasted rhubarb, for example. Another idea is a vegan lemon mousse that's airy and light thanks to the magic of aquafaba.
These indulgent cheesecake jars come together really easily (in a blender) and are heavily spiced with ginger and adorned with an impressive looking but dead easy to make almond brittle. Another option is a vegan take on Portuguese custard tarts. As they are made with shop-bought pastry, there is no pastry know how required at all and the custard comes together in a blender in minutes.
If mousse is what you are after, I have many vegan mousse recipes on my blog but the two below are probably my firm favourites (at least for now, I am fickle you see…). This vegan hazelnut mousse is like a glass of airy Nutella or if you are a peanut fiend, this vegan peanut butter mousse with a layer of dark chocolate ganache will definitely make you very happy indeed.
Finally, two takes on classic desserts – vegan tiramisu jars, which are not only quite easy to make but beautiful to look at too and a fluffy vegan chocolate mousse, which marries the wonder of whipped aquafaba and melted dark chocolate together to create a rich yet airy texture that makes it hard to put down.
I hope you will enjoy this simple round-up and that it will spark some Easter meal ideas for you and if you have any questions about any of these recipes, contact me on Instagram or Facebook or leave a comment under the recipe and I will get back to you as soon as I can.
Happy Easter
Lazy Cat & co.


Source link
Fitnessnacks- #Vegan #Easter #recipes #Lazy #Cat #Kitchen
Courtesy : https://www.lazycatkitchen.com/vegan-easter-recipes/