The first of two days of the 2023 World's Strongest Man (WSM) Final has come to a close. It was filled with twists and turns, a cornucopia of dramatic moments, and a tight race atop the leaderboard.
The day consisted of three events, which in order were: the Reign Shield Carry, the KNAACK Deadlift, and Fingal's Fingers. The first and third events were swapped from the initial program due to inclement weather causing an hours-long delay to start the day — performing Fingal's Fingers in the rain is simply too dangerous.
2023 World's Strongest Man Standings After Day Three
Mitchell Hooper — 25 points
Oleksii Novikov — 24.5 points
Tom Stoltman — 24 points
Trey Mitchell — 22.5 points
Evan Singleton — 15.5 points
Brian Shaw — 14.5 points
Pavlo Kordiyaka — 14 points
Mathew Ragg — 11.5 points
Luke Stoltman — eight points
Jaco Schoonwinkel — 5.5 points
Below are the standings at the end of Day Three of competition and the results and recaps for each of the three events that took place in Myrtle Beach, SC:
[Related: 2023 World's Strongest Man Results and Leaderboard]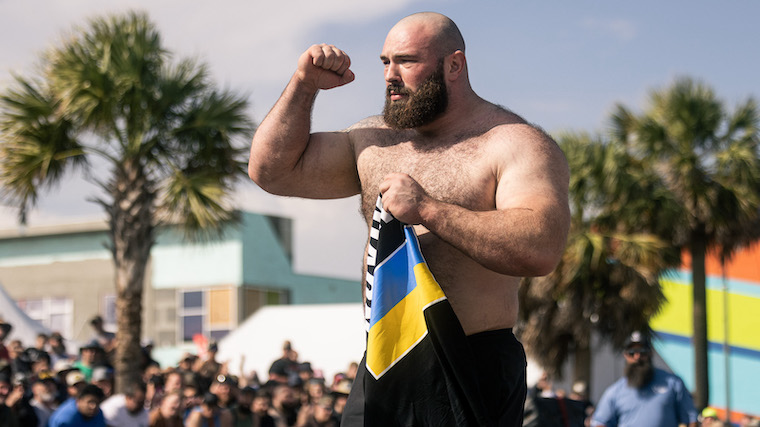 Image courtesy of World's Strongest Man
[Related: Cardio for Strongmen and Strongwomen to Supercharge Your Conditioning]
2023 World's Strongest Man Reign Shield Carry Results
Each strongman was tasked to carry a 432-pound shield in a bear hug position for the farthest distance possible up and down a 20-meter course.
Mitchell Hooper — 64.8 meters
Tom Stoltman — 63.15 meters
Oleksii Novikov — 55.87 meters
Trey Mitchell — 50.83 meters
Evan Singleton — 48.3 meters
Pavlo Kordiyaka — 46.59 meters — issued a 19.8-meter penalty
Luke Stoltman — 44.62 meters
Brian Shaw — 39.1 meters
Mathew Ragg — 37.65 meters
Jaco Schoonwinkel — 15.92 meters
To clear confusion regarding the gap between Schoonwinkel and the rest of the field, Schoonwinkel slipped early in his run, which caused him to fall forward on top of his shield. Since he dropped his shield, his run was over as it was an event for max distance in a single attempt.
The main story coming out of the Reign Shield Carry is the 19.8-meter penalty. During each run, the strongmen walked down the 20-meter course, turned around, and went back. They did this for as far as they could.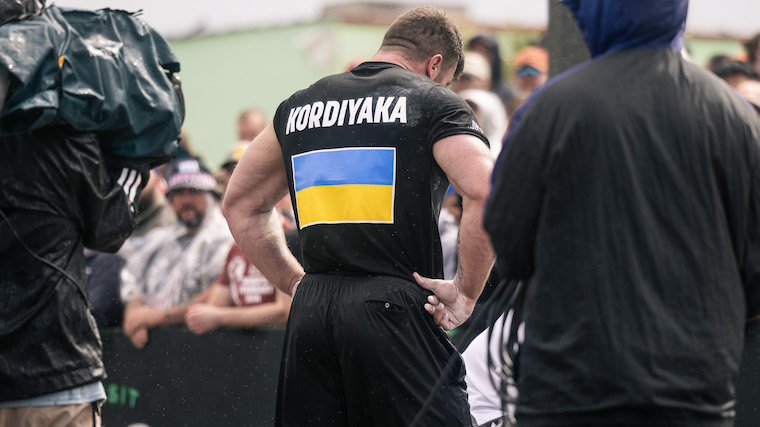 Image courtesy of World's Strongest Man
In order to turn around, each strongman had to place a foot on or past the line that marked the end of the course. During Kordiyaka's run, he apparently came close to the line when finishing his second length of the course but didn't touch it. After a long discussion amongst the judging team, including WSM Tournament Director Colin Bryce, they issued Kordiyaka a penalty of nearly a third of his initial event-winning 66.39-meter run.
Regarding the penalty decision, Bryce told BarBend:
"Strongman is bespoke in every event, and under every condition, it has to be changeable and fair. The rules state each athlete's foot needs to touch the line, and Kordiyaka's foot did not. In every situation and scenario, we do our absolute best to uphold fairness."
2023 World's Strongest Man KNAACK Deadlift Results
The 10 finalists deadlifted 355 kilograms (782.6 pounds) for as many reps as possible in a time limit of 75 seconds:
Mitchell Hooper — eight reps
Oleksii Novikov — seven reps (T-second)
Brian Shaw — seven reps (T-second)
Trey Mitchell — seven reps (T-second)
Mathew Ragg — seven reps (T-second)
Tom Stoltman — six reps
Evan Singleton — five reps (T-seventh)
Jaco Schoonwinkel — five reps (T-seventh)
Pavlo Kordiyaka — four reps
Luke Stoltman — three reps
The first two two-man heats — Schoonwinkel vs. Ragg and Shaw vs. Luke Stoltman — performed their deadlifts in rainfall. While that doesn't necessarily affect the deadlift, it was a notable difference in conditions compared to the subsequent three two-man heats, which lifted under parting clouds.
There were three highlightable moments in the event. The first was Kordiyaka stepping off the platform in a daze after his third rep. He was lightheaded from pulling over 2.5 times his body weight. However, he composed himself within the time limit to lockout an additional rep that was worth an additional point, as Luke Stoltman only managed three reps.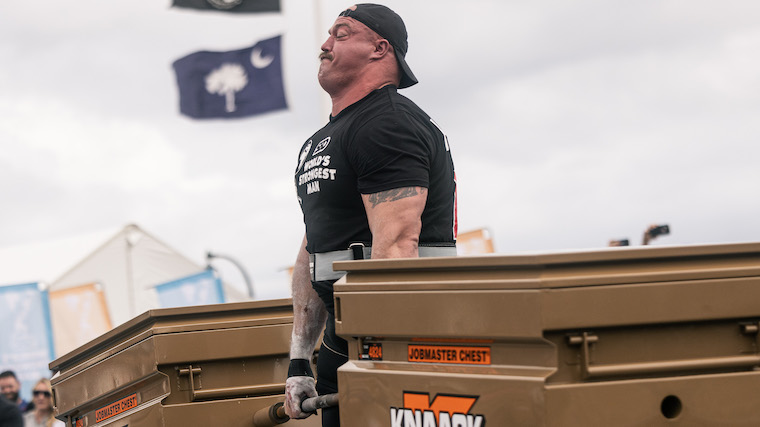 Image courtesy of World's Strongest Man
The second highlight was Tom Stoltman's suspended seventh rep that never came. During the final heat against Hooper, Stoltman went for a seventh rep that went above the knees and then hovered at mid-thigh height for eons. His face turned a reddish-purple, and a vein in his temple looked like it was on the cusp of bursting. However, he could not get his hips through to achieve the down signal from the judge.
The third highlight is the ease with which it appeared Hooper performed his event-winning eight reps. Hooper had the advantage of knowing that eight reps was the mark to hit to land atop the leaderboard, but pulling that weight that many times and appearing unscathed afterward is no easy feat.
2023 World's Strongest Man Fingal's Finger Results
Each of the 10 finalists had to lift and topple five pillars weighing 320, 340, 350, and 380 pounds in the fastest time possible:
Tom Stoltman — five in 39.36 seconds
Oleksii Novikov — five in 42.26 seconds
Trey Mitchell — five in 48.46 seconds
Pavlo Kordiyaka — five in 48.69 seconds
Evan Singleton — five in 49.85 seconds
Mitchell Hooper — five in 49.89 seconds
Brian Shaw — four in 26.69 seconds
Luke Stoltman — four in 32.54 seconds
Mathew Ragg — four in 35.03 seconds
Jaco Schoonwinkel — four in 40.76 seconds
The Fingal Fingers was performed during a brief moment of reprieve between two bouts of rainfall at the end of the day. The strongest men in the world moved some of the heaviest implements WSM has to offer on the street adjacent to Myrtle Beach, with the biggest crowd of the contest cheering in delight.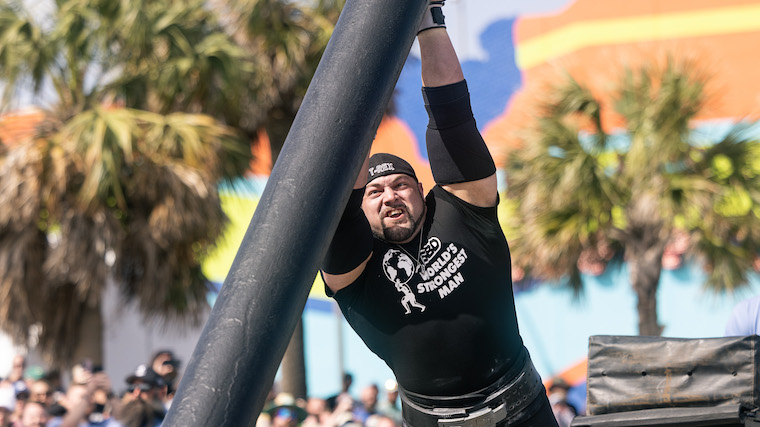 Image courtesy of the World's Strongest Man
The most notable aspect of the results is the four-hundredths of a second that separated Singleton and Hooper. It ultimately led to Hooper, Novikov, and Tom Stoltman being within a point of each other at the top of the leaderboard heading into the final day.
Four-hundredths of a second is so narrow an amount of time, it is arguably how long it takes the judge's brain to signal to the body to move its finger to click the stopwatch. The margins in the sport at this level are that tight.
To The Podium
The final day of competition in Myrtle Beach features the Max Dumbbell, the Vehicle Pull, and the Atlas Stones. Defending WSM champion Tom Stoltman is within range of three-peating, but Novikov and Hooper are in great positions to potentially dethrone him. Likewise, Trey Mitchell is still within striking distance of the podium, including the top spot. It will undoubtedly be a battle for the ages.
Featured image courtesy of World's Strongest Man


Source link
Fitnessnacks – #Worlds #Strongest #Man #Day #Results #Point #Separates #Top
Courtesy : https://barbend.com/2023-worlds-strongest-man-day-three-results/