In the wind now is the '23 Master's Tournament, and riding on that coat-tail, it's got you thinking. Thus, prompts you to consider enhancing your golf game in return. With temperatures gradually warming across the country, golfers are already returning to the driving range, links, or courses. Regardless of your actual stroke abilities, everyone wants to look their best. The best golf apparel can help you there.
Now is the perfect time to conduct a thorough golf-style audit and ask yourself, "What do I need to replace, and what do I want to add this summer?" Although the question appears to be straightforward, the answer may be more complex than it seems.
You understand that you need to upgrade, but where should you begin your search, and what should you purchase? Conducting a Google search can be overwhelming since thousands of results will appear, and it may be challenging to determine which one is the best fit for you. Let us assist you in this challenge by providing you with a list of the best golf apparel in 2023. Next thing you know, you'll be on point with the likes of  Koepka, Fowler, and Thomas, fashion-wise, when you look to tee it up next.
Best Golf Apparel in 2023
It's a pretty safe bet that most guys that hit the links like for their golf style to be on point with the golf game — if not more so if you're struggling to drop your round scores. We did the hard work and found the best golf apparel around.
Golf Hats
Designed for more than just keeping the sun out of your eyes while teeing it up, these hats can add major fashion power points to your game.
Nike Dri Fit Swoosh Golf Hat
Amazon:  $33.90
Nike's classic Dri Fit cap is a solid overall golf hat with excellent breathability, perforated side and back panels, and moisture-wicking fabrics. It also has a contrast-colored material under the bill to reduce sun glare.
Melin Trenches Icon Hydro Snapback Hat
Amazon:  $69
If you seek a hard-working performance snapback ball cap, look no further. The Melin Trenches Icon Hydro is water and sweat resistant, has ultimate breathability with perforated side and back panels, and comes in over ten colors. It also floats on water, just in case you end up pond-chasing (let alone a swimming pool?) your next round of eighteen.
Titleist Men's Tour Performance Golf Hat
Amazon:  $33.90
A soft and stretch-fitting performance blend of polyester and spandex, the Titleist Tour Performance cap features a curved bill and snap closure and is treated with UV protection 50+ UPF.
TravisMathew Mens Hout 2.0 Hat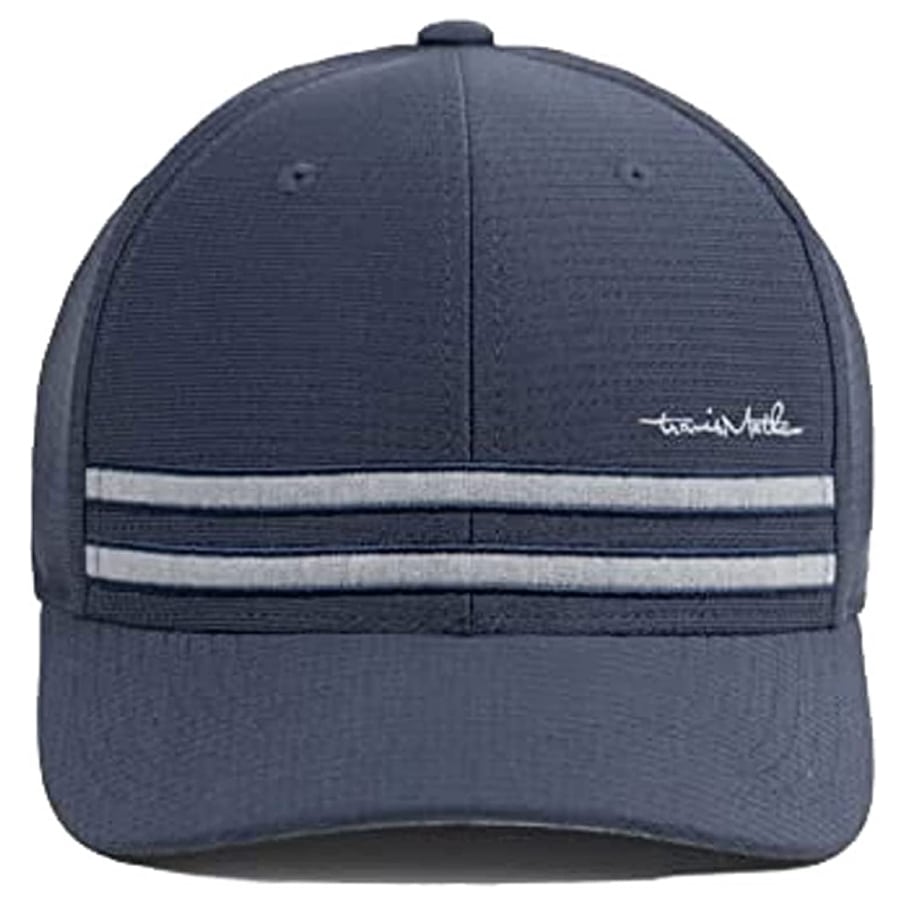 Amazon:  $29.60
Coming in two different sizes, this flex-fit cap from TravisMathew is 100% polyester and comes in a few other colorways. The styling is simple enough to wear on and off the fairways.
PXG Prolight Bush Hat
Amazon:  $45
The Prolight from New Era is 25% lighter than other bush caps, features moisture-wicking materials, offers UPF 50+ protection, and has a cooling sweatband with a drawstring cord—the ultimate hat for shade and comfort.
Puma Golf Hat 
Amazon:  $30
The orange Puma golf hat made world-famous and worn by Rick Fowler. The man has been rocking the orange-colored Puma hats before they were fashionable. This model is offers a performance blend of materials for ultimate moisture-wicking properties, keeping you cool and dry.
Greg Norman Signature Straw Hat
Amazon:  $34.95
Think you've got enough gravitas and style to pull off the ultimate golf apparel, bold style move? Take a lesson from the shark and pick up a Greg Norman straw hat. They are lightweight, breathable, and have massive style points, too.
Golf Tops
Here are some of the most stylish, comfortable, and performance-based golf tops you can rock in 2023. The best part is all of these pieces can be worn as part of your everyday wardrobe, and some, in office settings, too.
Lululemon Metal Vent Tech Polo
Buy Here:  $88
Form-fitting slim-cut polo crafted with performance and sweat-wicking materials, this Lululemon polo is an excellent golf polo. It's constructed with a seamless design for chafe-free movements, too.
Peter Millar Pina Skullada Performance Polo
Buy Here:  $110
A slick-looking performance polo with built-in UPF 50+ protection, this Skullada top from Peter Millar is crafted with miniaturized skulls all throughout its design for a unique look. Four-way stretch offers exceptional moveability as well.
Polo Ralph Lauren Quarter-Zip Pullover
Buy Here:  $125
Ralph Lauren has been making some of the most stylish golf apparel for years and even offers a performance lineup with their RLX series. This basic quarter-zip pullover works on and off the greens.
Greyson Lake Fleece Hoodie
Buy Here:  $158
Not all hoodies are made the same. Grabbing one off the rack and hoping it holds up for a round of eighteen is a lousy strategy. This superb performance hoodie from Grayson is stylish, offers a tremendous slim-fitting cut, and won't disrupt your swing motion.
RLX Ralph Lauren Vest
Buy Here:  $228
Crafted from the softest French terry, this moisture-wicking vest from Ralph Lauren is lightweight yet constructed with a front insulating panel to keep you warm on chillier pre-summer days or comfortable during cooler evenings before autumn sets in.
RLX Ralph Lauren Convertible Performance Terry Jacket
Buy Here:  $149.99
This performance-based, convertible jacket from the RLX line from Ralph Lauren is the perfect pre or post-summer jacket. Lightweight, slim fit, yet mobile enough for stroke mechanics. Bonus points — the sleeves zip on and off when things warm up mid-round.
Golf Bottoms
Today's golf bottoms offer the best performance-based materials stylish enough for a business casual look at the office. Here are some of our current favorites.
TravisMathew Street Art Shorts
Buy Here:  $89.95
These shorts offer a four-way enhanced stretch utilizing a wrinkle-free material. The TravisMathew Street shorts provide superb all-day comfort, whether playing a round of eighteen or a weekend running errands.
Original Penguin Pete Embroidered Shorts
Buy Here:  $87
The Original Penguin Pete shorts have a stylish slim-cut design for use on and off the course. Stretch fabric makes movements comfortable, and the waistline features small silicone details to keep your shirt tucked in all day.
Lululemon Commission Golf 10″ Shorts
Buy Here:  $98
Featuring stretch-based and wear-abrasive materials, the 10″ commission shorts from Lululemon work as hard as you do playing a round of eighteen. Neutral tones like grey, beige, and navy make them versatile enough for all life's endeavors.
Lululemon Commission Golf Pants
Buy Here:  $148
If you're gonna go with the Commission shorts from Lululemon, you may as well double down and get the pants as well. Lightweight, breathable, mobile, have a slim tapered drape and can be worn to the office. All boxes are checked off here.
RLX Ralph Lauren Compression-Lined Performance Pant
Buy Here:  $138
These performance pants are like a jogger hybrid but are instead a polyester and elastin blend for moisture-wicking capabilities without the unfitting cuffed ankles. Built-in compression shorts are a nice added touch as well, with a drawstring elasticized waistband.
J. Lindeberg Stuart Stripe Pants
Buy Here:  $200
Utilizing lightweight, stretch fabric, these pants allow for great moveability and flexibility. The "tiger brown" colorway is a khaki-based color that offers endless possibilities for styling with a top, perfectly with any listed above. The subtle cream stripe down the sides gives a nice modern flare to the design.
Golf Shoes
While most people believe that you need to have "actual" golf shoes in order to successfully play a round of nine or eighteen, that is not true. While shoes designed for grass traction (like spikes) may work best, here are some of our current favorites, no matter your style.
Puma Ignite Elevate Golf Shoes
Amazon:  $130
Ricky Fowler has year after year continued to be one of the most stylish players on tour, largely in part to his sponsorship with Puma. These Ignite Elevate shoes are stylish yet have wonderful traction control no matter how much torque your swing generates.
TRUE linkswear All Day Knit II Golf Shoes
Amazon:  $129
As their name implies, these golf shoes are meant to be used and worn all day. Built with a super-lightweight and breathable knit mesh material, these shoes make walking a full round of eighteen a breeze. They also come in eleven different colors for endless style combos.
Nike Air Zoom Victory Tour 2 Golf Shoes
Buy Here:  $114
The gold standard for Tiger Woods for decades, Nike Golf still makes some of the best shoes around. Their Air Zoom Victory 2 is their latest model pairing supple leather with Zoom Air traction. An instant classic.
Nike Air Jordan 1 Low G 
Dicks:  $139.99
Speaking of Nikes, if sneakerhead is more of your vibe, then why not own that on the fairways as well? The Nike Air Jordan 1 Low G is the golf shoe with street style. Genuine leather styling meets Air cushioning comfort combined in a durable shoe.
FootJoy Premiere Wilcox DJ Golf Shoes
Buy Here:  $240
FootJoy updated a classic-looking shoe to the max in the number one shoe on tour. Premium waterproof leather featuring vintage wingtip styling. Excellent craftsmanship meets tour-quality performance.
G/FORE Split Toe Gallivanter Twilight Golf Shoes
Buy Here:  $225
Premium waterproof pebble leather in a stunning navy colorway, this golf shoe from G/FORE keeps it simple with clean visual lines. Triple-density foam insoles with a cleat-style outsole for supreme traction, this golf shoe is about as good as it gets.
Look Good, Play Good
Utilizing our shopping guide to help you dress in the best golf apparel in 2023 will help turn your golf style into something others will be taking notes on, even if your golf game isn't on par with your fashion — yet.


Source link
Fitnessnacks and Sports – #golf #apparel #Hats #clothes #shoes
Courtesy : https://clutchpoints.com/the-best-golf-apparel-in-2023-hats-clothes-shoes