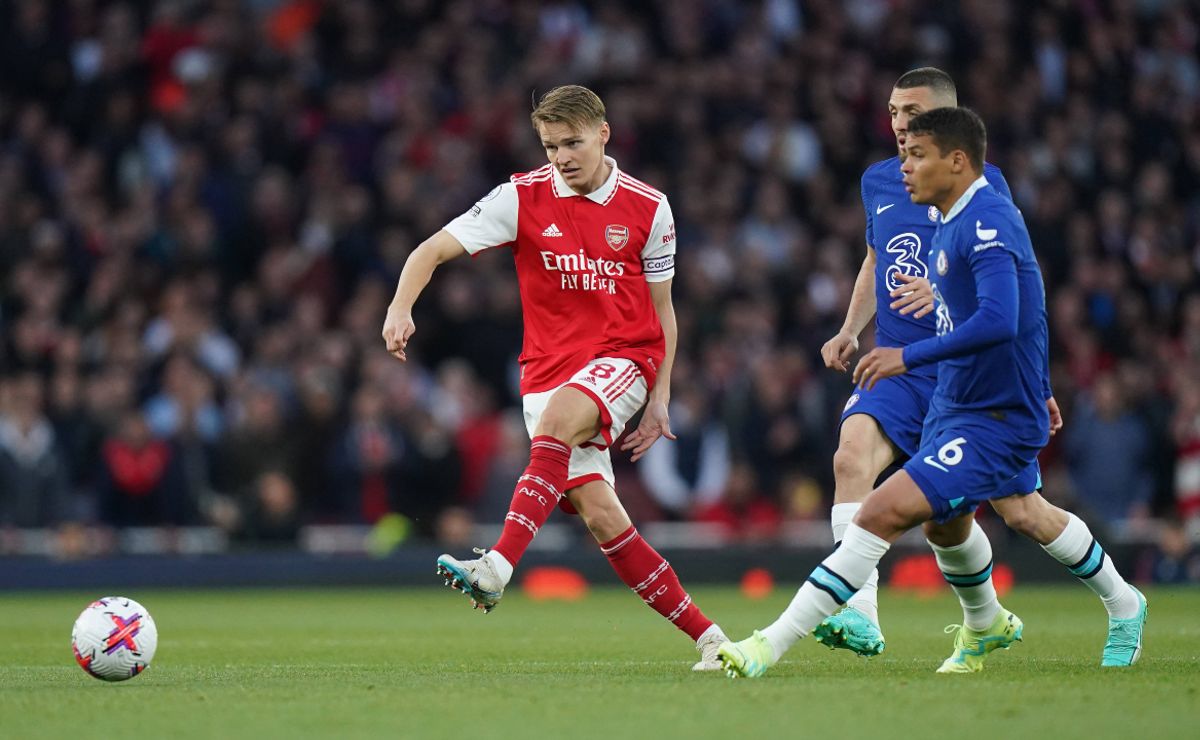 Arsenal beat crosstown rivals Chelsea 3-1 on Tuesday night at the Emirates Stadium to go back into first in the Premier League table. The hosts collected three points thanks to three first-half goals. Martin Ødegaard led the onslaught by Arsenal with a brace in the opening period.
In a way, the Gunners had to record a victory. Manchester City has the inside track to win the league this season. Even though Arsenal ends the day at the top of the table, it has played two more games than Manchester City. However, Arsenal's lead at the top is just one point.
Chelsea, on the other hand, needed a win to help avoid a stay in the bottom half of the standings. The Blues have not won a league match since the middle of March.
Ødegaard scores first two goals
Martin Ødegaard scored the opening goal of the match in the 18th minute after the hosts dominated early on. The club captain received a clever low cross from Granit Xhaka near the edge of the box. Ødegaard then struck a perfectly placed shot into the top corner of Kepa Arrizabalaga's goal. The Spaniard was able to get fingertips on the ball, but couldn't keep it out.
Xhaka and Ødegaard linked up again for Arsenal's second goal of the night. The final ball and first-time strike was nearly a carbon copy of the opening goal. Xhaka once again found Ødegaard with a low cross, this time a little further inside Chelsea's box. The Norwegian creative midfielder then scored his second goal of the match and 14th in Premier League play this season.
The Gunners, however, weren't done firing in the first half. Gabriel Jesus scored his team's third goal in a 16-minute span. After a bit of chaos inside Kepa's area, the Brazilian forward pounced on a loose ball and placed it into the back of the net. It was his fifth goal in his last six matches with Arsenal.
Madueke scores first Premier League goal for Chelsea as silver lining against Arsenal
The visitors would be able to grab a goal back in the 65th minute. Mateo Kovacic found Noni Madueke in acres of space with a great ball over the top of Arsenal's back line. The winger may not have made perfect contact with his shot on goal, but they all count the same. It was his first-ever Premier League goal for the club since his January move to west London. Arsenal have now not kept a clean sheet in any of their previous seven matches.
Chelsea's consolation goal would be the final major moment of the match. Arsenal now leap-frog City to move to the top of the Premier League table. However, the reigning champs can go back ahead in the standings with a win against West Ham on Wednesday.
PHOTO: IMAGO / PA Images


Source link
Fitnessnacks and Sports – #Arsenal #beats #Chelsea #atop #Premier #League #table
Courtesy : https://worldsoccertalk.com/news/arsenal-beats-chelsea-to-go-back-atop-premier-league-table-20230502-WST-431440.html