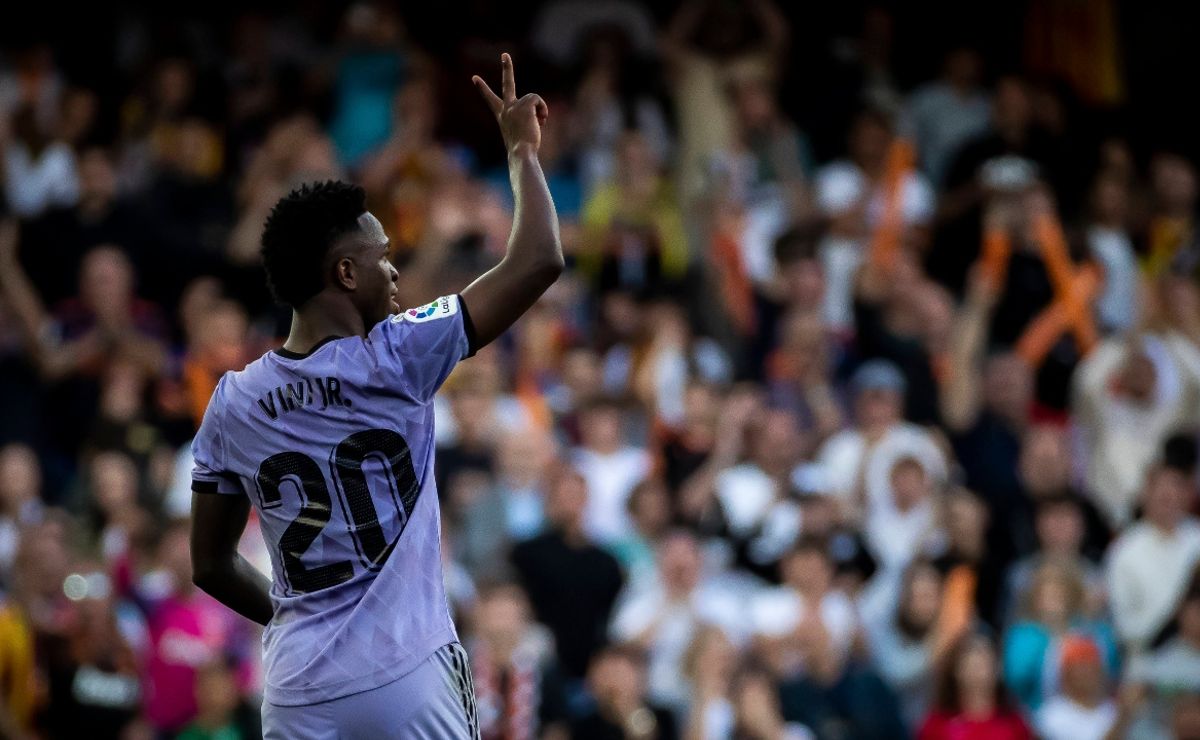 Police in Spain have revealed that seven people have been arrested in connection to racism toward Vinicius Junior in Real Madrid's LaLiga game at Valencia this past weekend. Fans in attendance at the Mestalla racially abused the Brazilian star on Sunday. During a 10-minute delay, the star tried to identify some of those hailing chants and jeers at him. At the time, nothing came of his efforts. But, the fans provoked him into a red card in Real's defeat.
LaLiga has reported 10 racial abuse incidents directed at Vinicius over the last two seasons.
According to ESPN, three of the arrested came directly from the Valencia game at the weekend. Videos circulated on social media of fans inside the stadium chanting racial abuse towards Vinicius. The remaining four arrests involved the hanging of a mannequin donning a Vinicius jersey from a bridge back in January.
After Sunday's match, Javier Tebas, LaLiga's president, made an odd statement via Twitter. He said Vinicius must educate himself on the situation. On Tuesday, the league released an official statement claiming that they need more "powers" to fight racism.
LaLiga says it can only report racism incidents to police
"LaLiga is to request more sanctioning powers, with the aim of being more agile and effective in the fight against violence, racism, xenophobia, and intolerance in sport, where LaLiga has been leading the identification and reporting of such behavior in football stadiums for years, but the organization feels powerless when observing how its reporting ends," read the statement.
The league also claimed that current Spanish law prohibits them from actually imposing sanctions on racial abusers. Instead, LaLiga says that they can only "identify and report" certain incidents to the authorities.
Ancelotti declares Vini wants to remain with club
Although some have suggested that Vinicius could depart Real after being subjected to regular racial abuse, the club's manager insisted that the Brazilian will remain with the team. "He loves football and especially Real Madrid. He's not considering [leaving] because his love for Real Madrid is so great and he wants to spend his career here and play a key role in this team," Ancelotti said on Tuesday.
"He's in love with Real Madrid. He loves this club and he fights for Real Madrid. He knows his future is here and deep down he feels he wants to work and play for Real Madrid."
Ancelotti also stated that he hopes LaLiga reduces the player's red card penalty. Vinicius will get time off if the league upholds the two-match ban. However, the Brazilian will quickly be back in action on the pitch if LaLiga makes the necessary changes to reduce his suspension.
PHOTO: IMAGO / NurPhoto


Source link
Fitnessnacks and Sports – #LaLiga #asks #power #fight #racism #latest #incident
Courtesy : https://worldsoccertalk.com/news/laliga-asks-for-more-power-to-fight-racism-after-latest-incident-20230523-WST-434252.html